Dîner à la ferme au Canada saison 2 (Dining at the Farm 2, Canada)- Films.Solutions Case Study
SWISS REALITY TV SHOW FILMED ON LOCATION IN QUEBEC AND ONTARIO
"Dining at the Farm Canadian Edition "Dîner à la Ferme au Canada" is a Swiss TV Reality show (by RTS) that features a friendly cooking competition between 7 farmers of Swiss Descent. Each farmer is challenged to prepare a three-course meal that honours and celebrates traditional Swiss culinary specialties that will be evaluated by the six other participants. The name of the best host of season 7 will be named during the grand finale show to be held in a traditional Canadian sugar shack.
For the second year in a row, RTS (Swiss Radio and Television) came to Canada to film its popular TV series "Dinner on the Farm." For this seventh year of the series (5 in Switzerland and 2 in Canada), the broadcaster decided to call on the Films.Solutions team. After assisting them in the production of the series in Canada in 2016, they did not hesitate to call on our services for this new production in 2017 and 2018.
The series goes out to meet Swiss farmers who have immigrated to Canada and still own a farm. Unlike the first series that was approved by RTS management almost a year before the start of production, this new production was after seeing the excellent ratings, and only four months before the start of production. From the start of filming, we knew their intentions to return to Canada.
In the first year of filming in Canada, the farmers were close to Montreal. For the second year, we had to enlarge the scope of research and especially to diversify the type of agricultural production that we were going to visit.
Another request from the director was to make the shootings more dynamic and more spectacular. The mountains of eastern Canada do not impress the Swiss public. The Swiss Alps are much more majestic than the Laurentians or Appalachians mountains. Eastern Canada has other assets and we needed to highlight them.
Finally, for the first year, the production of the final was held in Switzerland. For this second year, it's in Canada that we would film, but for logistical reasons and realization, the decision was made to do it in the spring 2018, during the maple sugar season.
One of the important things for us is the ability to act quickly and efficiently. Of course, we watched the show when it aired, and we looked at the show's Facebook page to see what people were saying. The reactions were particularly good and appreciated by the Swiss public, so it was not a surprise when we learned the ratings were very high.
So, when they asked us if we could accelerate things to allow for a new production soon, we were ready and more than happy with their decision.
After some administrative adjustments, we started pre-production in Canada. With our knowledge of the Canadian countryside and the agricultural world, our research department managed to find several farmers who meet the RTS criteria.
Dîner à la Ferme au Canada  photo Gallery
Dîner à la Ferme au Canada  Video Gallery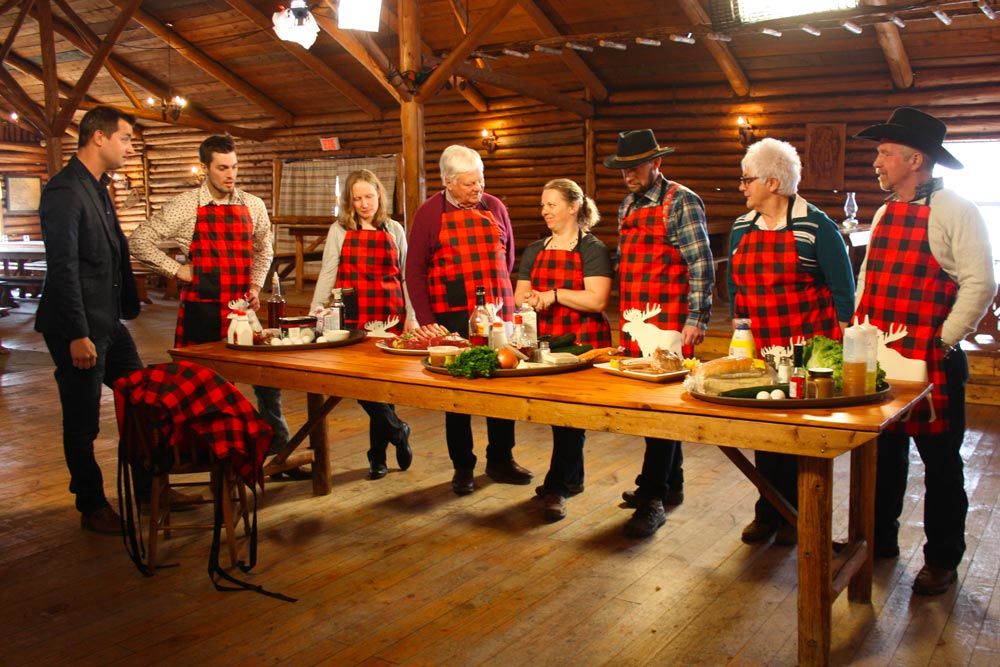 Dîner à la ferme au Canada
Director Mauro Losa
Produced by RTS (Radio Télévision Suisse)
Cinematography: Patrick Mounoud.
Datawrangling : Emilie Marchand
Sound :
Participants :  Miguel Ellenberger, Daniel Reichenbach , Anita Arnold, Théo Hug, Marc Bieler, Sylvia Jacquemet,  Marianne  Santschi
We've produced several seasons of un Dîner à la Ferme in Swizerland over the last few years. As such, our team understands the producer's needs perfectly. We thought it might be a challenge embark on a Canadian edition of our program with a local canadian film crew. However, as soon as we met our Canadian counterparts, we knew we were dealing with seasoned professionals. Richard and his film crew were able to quickly integrate with our Swiss production crew and understood our production's challenges and requirements. I'm happy to recommend Richard and his team for their kindness and efficiency.