Canada is known for its harsh winters, which can present unique challenges for filmmakers. Learn how to prepare for a successful winter shoot, from equipment considerations to safety protocols.
Stay warm throughout the day
The use of multilayer clothing is essential to ensure that you stay warm throughout the day when filming in winter. One of the aspects not to be overlooked during filming is the rhythm. We may have to follow a subject, but sometimes we remain motionless for long hours, whether for an animal documentary, or a fiction, it is worth better be prepared. In winter, the enemy is perspiration and lack of ventilation, the use of the multilayers makes it possible to take off and put on clothes depending on the weather conditions as well as the shooting situation. Avoid cotton because it does not wick away perspiration.
Natural fibres like wool keep heat. Down, fleece and windbreaker fabrics are a good choice. Harder fabrics, such as GORE-TEX, can stiffen, which is a problem if you are taking pictures or recording. Nowadays many items of clothing with integrated heating systems are available and are of very good quality. If you tend to be particularly sensitive to cold, their use is highly recommended.
Make sure you cover yourself carefully, as the wind can make its way through the smallest opening. Using mittens is a great idea, but this can make it difficult for you to operate the equipment. The Films.Solutions team uses gloves with interchangeable internal lining for this.
Be Prepared for filming in the cold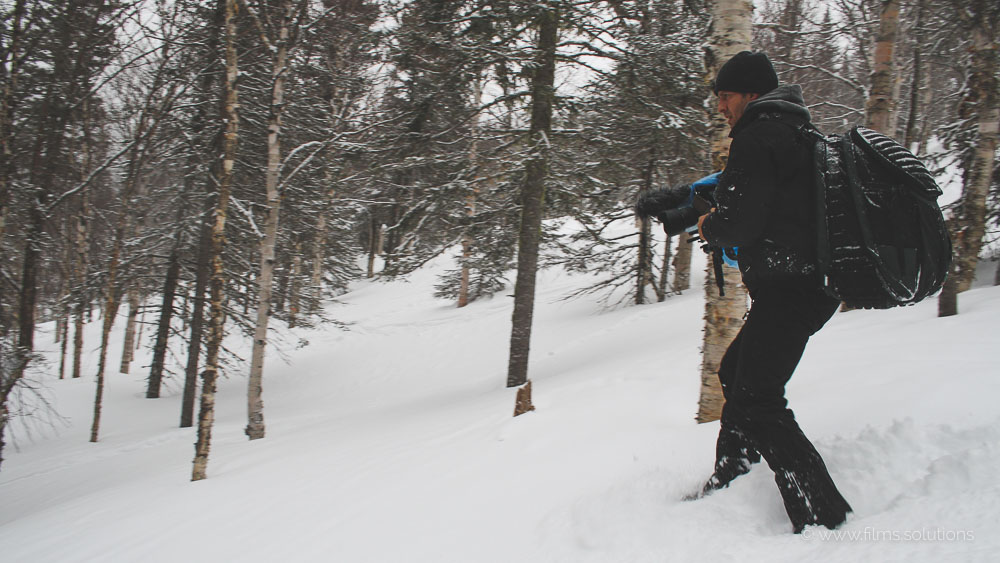 When you are in particularly cold places, be alert and be careful not to underestimate the risk of frostbite. The problem with frostbite is that once it freezes, you don't feel pain. Cover any exposed skin with sunscreen or a greasy substance designed to protect you. Another problem with cold and snow is the reflection of light. Wearing glasses that cover the eyes well is necessary. Formerly called snow blindness, this excessive light can cause temporary vision loss.
This protection from the cold is not a question of fashion or having the latest technology, this protection from the cold is a question of survival.
If you are in extreme weather conditions, it is likely that you will be away from any emergency assistance if you need it. Calling on qualified people for survival in winter or in difficult conditions is essential, and filming in extreme cold is no exception. Knowledge of the terrain and the changing climate of the different regions where you film is essential. People in cold regions are experts at recognizing changes in climate, and even though we are prepared and used to filming in cold temperatures at Films.Solutions, we appeal to people in the regions where we are going (experts in avalanches, Inuit, etc.).
Before any production the important thing is the planning and imagining the unimaginable, making a thorough assessment of the risks and agreeing on methods in case the situation degenerates, remaining flexible and allowing yourself the time and resources to return safely. Remember that teams work much more slowly in cold weather. When it is very cold, people tend to slow down and may be sluggish. Watch how your colleagues act, and make sure everyone takes regular breaks to warm up and eat food and drink. Whether in extreme cold or excessive heat, hydration is very important and is often overlooked. The cold and the hassle of going to the bathroom makes team members drink less than they should.
Films.Solutions members have training in emergency situations and we staff a paramedic on larger film sets. All crew members must be properly informed of the best ways to stay warm and safe. Extreme cold creates unpredictable conditions. You may find yourself unable to warm up. You must be prepared to face a hostile environment without the contribution of modern technological means.
Have equipment adapted to the cold and adopt habits to protect your equipment.
In cold weather, batteries tend to run out quickly. Make sure your batteries are fully charged before you start the day. Preserve the battery life by keeping it somewhere warm, like in your pocket with a hand warmer.
One of the main problems in cold weather is condensation when you return indoors. Bringing a very cold camera inside induces condensation. Planning your shootings and passing, switching a camera from the outside to the inside and quickly going outside can freeze on the lens glass. To avoid condensation, place the camera in a large plastic bag before taking it inside, or if possible, leave the camera in the bag in an intermediate room and allow it to warm up slowly. Take care that there is no snow on your device, as this would cause a rise in humidity which could damage the electronic circuits of your device. Another solution is to leave the device outside as long as the temperatures do not drop below -25 ° C, as this could crack your LCD screen. Note that some lenses have special coatings, which makes it easier to wipe away condensation.
Protect your equipment. Use a winter-resistant case. Wipe snow from your equipment with a paintbrush or cloth. Do not change lenses outdoors, unless it is absolutely necessary. Heavier tripods with fewer plastic parts are less likely to break when frozen. Grease in a tripod can also freeze, but there are tripods with arctic grease options available. LCD screens are particularly sensitive, so insulated pockets with hand warmers are one way to keep them from breaking.
Keep in mind that equipment such as generators, mobile or satellite phones and radios can also be affected by extreme cold.
Take spare parts for all essential equipment.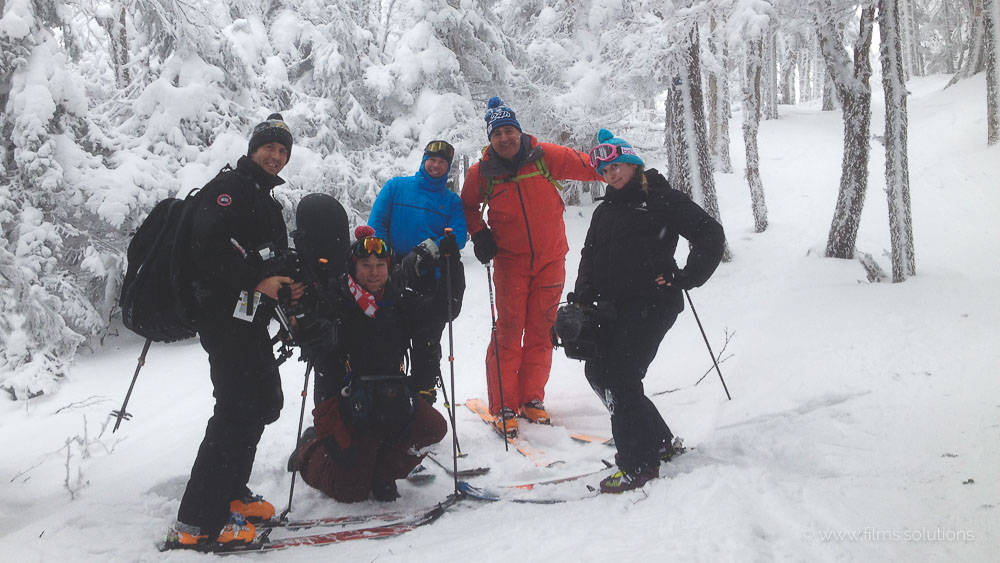 Contact us if your next production must be made in extreme cold. Our crew has the experience required to ensure safe and efficient production. Whether for a DOP, sound recorder, cameraman, fixer or executive producer, we are able to assist you.