Filming in Canada's Maritime Provinces
Between the Atlantic Ocean, mountains. Three provinces to explore for your next productions
Explore the various options available to you in Atlantic Canada
ON THE ATLANTIC COAST OF CANADA, THE PROVINCES ARE A DIRECT FLIGHT FROM NEW YORK, LONDON, GERMANY, PARIS, AND MANY EUROPEAN CITIES.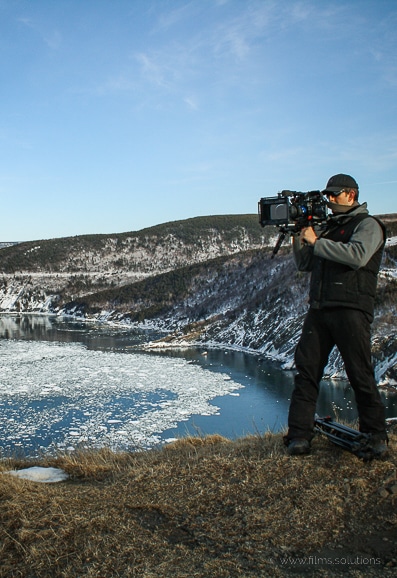 Some cool tips you should know
You want to film in a natural aquatic environment?
If you want to film in a natural aquatic environment, there are centers to help you in your approach. Centers such as environmental pools (Survival Systems Training) are used to create realistic marine and underwater scenes
Each province in Atlantic Canada has its own rules about filming on public and private property. Make sure to obtain the necessary permits and permissions before you start filming.
Nova Scotia has a diverse range of landscapes, from the rugged coastline and sandy beaches to the rolling hills and forests of the interior. Make sure to research the area you want to film in to get a sense of the local scenery and landmarks.
Collaborate with the community
Atlantic Canada is known for its friendly and welcoming communities. Consider collaborating with local businesses, organizations, and individuals to get the most out of your filming experience.
While the Maritime provinces are subject to the harshness of the oceanic climate, summers offer beautiful sunny days. Autumn offers a contrast of beautiful colours among the trees, ranging from bright yellow to fiery red, with the blue of the ocean. The winter is relatively cold, with considerable amounts of snow, especially in Northern New Brunswick and around the Cape Breton Peninsula in Nova Scotia. Temperatures are generally milder than the rest of Canada, with cooler summers and warmer winters due to the ocean. It is not uncommon to see people surfing South of Nova Scotia in the wintertime.
for filming old boats in a traditional village in the Maritime region of Canada is to visit the town of Lunenburg, Nova Scotia.
This UNESCO World Heritage Site is known for its well-preserved 18th and 19th century architecture and its role in the shipbuilding industry. The town features a variety of wooden boats, including the famous Bluenose II, a replica of the legendary racing and fishing schooner. Visitors can also explore the Fisheries Museum of the Atlantic, which showcases the history of the fishing industry in the region. The picturesque waterfront and colorful houses make for a perfect backdrop for filming traditional boats in a traditional village setting.