Dîner à la ferme au Canada (Dining at the Farm, Canada)
SWISS REALITY TV SHOW FILMED ON LOCATION IN QUEBEC
"Dining at the Farm Canadian Edition" Dîner à la Ferme au Canada is a Swiss TV Reality show (by RTS) that features a friendly cooking competition between 7 farmers of Swiss Descent. Each farmer is challenged to prepare a three course meal that honours and celebrates traditional Swiss culinary specialties that will be evaluated by the 6 other participants. The name of the best host of season 6 will be named during the grand finale show to be held in Switzerland later this year.
RTS (Radio Télévision Suisse) chose us in July 2016 to produce the introductory episode of the sixth season of the Swiss reality TV series "Dining at the Farm: Canadian Edition". We swiftly deployed a highly skilled and equipped three-person film crew, consisting of a steadycam operator, sound person, and production coordinator, to Mont Orford, Quebec.
To meet RTS's requirements, we brought a Sony F800 capable of recording in PAL 50i, ensuring our footage was compatible with European Broadcasting standards.
Our initial objective was to capture the first interaction between the contestants of the cooking show during Swiss National Holiday celebrations. Later, we were called upon to visit each of the participating family farms and produce seven one-hour episodes. During this second phase of the project, we were honored to work alongside the RTS film crew, including Chief Producer Émile Felbert, Director of Photography Patrick Mounoud, and Soundman/Gaffer Raphaël Crohas.
When RTS (Radio Télévision Suisse) approached us to film the introduction episode of the sixth season of their popular reality TV series, "Dining at the Farm: Canadian Edition", we were excited for the opportunity to showcase our expertise in film production.

Our first step was to conduct a thorough needs analysis. We studied the previous 5 seasons of the show and held discussions with Patrick Mounoud, the Director of Photography, in order to understand the rhythm and shooting style that had been established. This was crucial in ensuring continuity for the viewers of the show. We then communicated these needs to our film crew, making sure they were aligned with the vision of the broadcaster.

Next, we offered RTS a turn-key VIP film solution, which included our experienced film crew, all necessary cameras and lenses, Steadycam grip and lighting equipment, and even full equipment insurance. This one-stop solution meant that RTS didn't have to worry about coordinating multiple suppliers, saving them valuable time and resources.

In addition to the film crew and equipment, we were also responsible for ensuring safe and secure transportation to various rural and remote locations across Quebec. Our logistics team made sure that all necessary permits and certifications were in place, and our crew were on hand to manage any issues that arose during filming.

Finally, we offered innovative solutions to improve image quality on-location. For example, we suggested installing ND film on windows to reduce glare, and built faux beams to conceal lighting equipment and create a more natural look. These small touches helped to enhance the overall quality of the show and ensured that RTS received the high-quality footage they were hoping for.

Overall, our comprehensive solution helped RTS to achieve their vision for the show and allowed them to focus on what they do best – creating engaging and entertaining content for their viewers.
Dîner à la Ferme au Canada video Gallery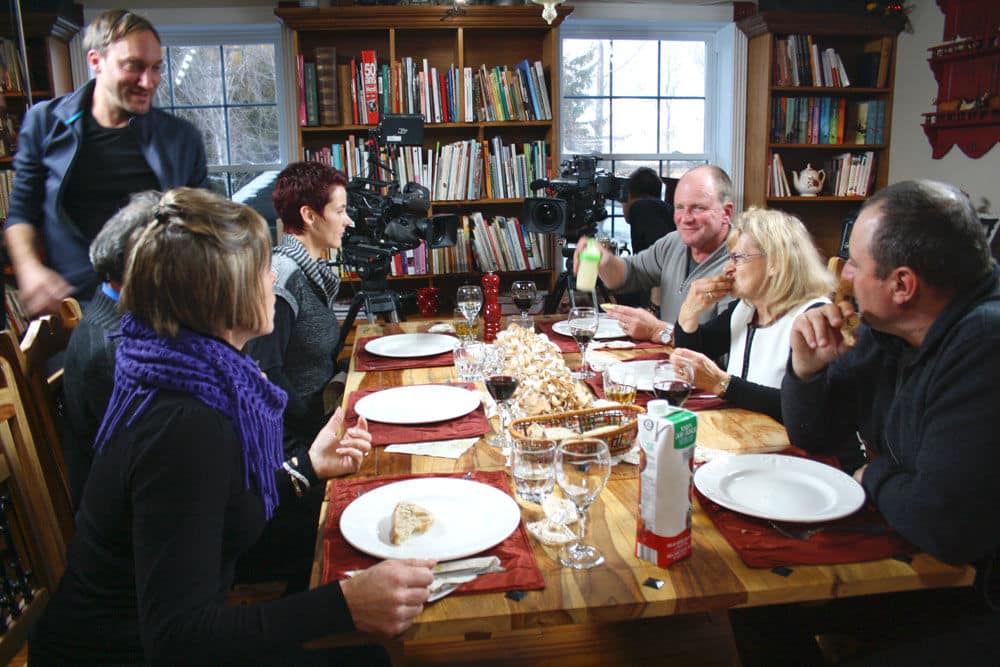 Dîner à la ferme au Canada
Director Mauro Losa
Produced by RTS (Radio Télévision Suisse)
Producers: Émile Felber Chief Producer RTS
Cinematography:

Patrick Mounoud, 
Richard Duquette,
Nicolas P.

Sound: Raphaël Crohas
Datawrangling : Emilie Marchand
Participants :  
Harry Reber
Anne Jacquet
Eddie Kessler
Cornelia Villeneuve
Claudine Vannod
Jean-Philippe Cuenoud
Eric Dupasquier