Canadian Film Production Services, Film Fixer, Line Producer, and Field Producer
Easing Your Path to Unforgettable Canadian Film Productions.
We take you where you want to go
FILM PRODUCTION MANAGEMENT
From Documentary to Feature Film
Production Equipment
Package and Technology
In the increasingly demanding world of film production, individual attention is crucial to maximizing your shooting experience.
Smart solutions for all your production requirements
We are Film Fixer and Production managers, and our job is to support your production process. Film Production Services at its best.
Our technical department covers the entire range of equipment required for your film production
Unleash the power of our extensive network, connecting you to top-notch industry professionals and cutting-edge resources across Canada.
Our adept crew seamlessly blends creativity and technical expertise to perfect your vision and deliver exceptional projects
Filming in Canada offers an exceptional production environment.
At Films.Solutions, we put our Canadian experience at your service. For more than 15 years, we have been active in the documentary, film, and television productions.
We offer a full range of services for your film or documentary, including a competent, passionate and dedicated crew. We'll work with you from start to finish, including any last-minute changes. Our team will cater to your every need, no matter your role as a producer, director, or broadcaster.
Personalized Film Production Services
Every film project is unique. Our flexibility and our rates will align with your production budget. You simply need to share your specific needs with us, as well as your service expectations, and we will take care of finding the best-fitting means to complete your project.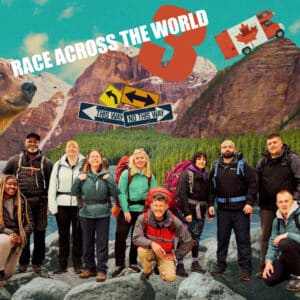 Embark on a never-before-seen journey with Films.Solutions, a vibrant and compelling story of "Race Across the World 3". From the bustling streets of Quebec City to the serene landscapes of Nova Scotia, immerse yourself in a world where every emotion,
Read More »
Hello, I'm Richard, the Chief Solution Officer at Films.solutions. Throughout my journey in the world of film, from TV series to advertising campaigns, I've been fortunate to work alongside some of the most talented professionals in the industry. Together, as a cohesive team, we're passionate about delivering production services that not only meet but surpass your expectations. One thing I've always prided myself on is our ability to seamlessly merge the creative essence of production with its technical intricacies. It's all about ensuring every shoot goes off without a hitch. I personally commit to working hand-in-hand with you, ensuring that we bring your unique vision to the screen in the most captivating way possible.
Our solutions have been created to facilitate your productions.
RACE ACROSS THE WORLD 3
Your Vision, Our Expertise: Plan Your Shot, We'll Shoot Your Plan – At Your Service!
We are here to facilitate your production by bringing technical expertise and knowledge gained through years of experience in film, TV, and advertising productions across Canada. Our passion for production makes us an asset to your team, and we pride ourselves on bridging the gap between production and the technical side of a shoot. Whether you require full-service production or technical support, we are committed to delivering exceptional results and ensuring a smooth and successful shoot.
Get to know us better | Your film crew in Canada

The importance of sound in creating an immersive and interesting film is often overlooked. In fact, there are situations in which sound is more crucial than visuals. This blog will discuss the significance of sound in film and the importance
Read More »

The Yukon backcountry is a breathtaking and remote wilderness that attracts many film and documentary crews each year.
Read More »

Documentary filmmaking in Canada, explore the numerous opportunities and services that are available to filmmakers in this amazing country.
Read More »

Have fun while discovering another region : On our way to the BAIE-JAMES by the BILLY-DIAMOND and the TRANSTAÏGA roads. Discover the Beauty of the Baie-James Region with Our Film Production Services: Embarking on a Journey Along the Billy-Diamond and
Read More »
What are you waiting for?
Contact us for your next film or documentary production in Canada